Kim Everett (left) and Betty White (right) with Payton.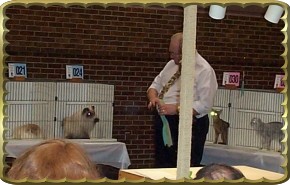 Payton anxiously looking at Bill Lee.


Payton recently became a Grand Champion at the Jolly Rogers Cat show on August 26th. He has become a very handsome seal point boy that is more loving than he is cute if you can imagine that! He loves to be perched on your shoulder (even though he keeps getting bigger and bigger!) and just purrs up a storm. He has a wonderful body, great legs and a very nice round head with round, blue eyes and tiny ears that are getting lower and lower on his head. He also has huge coat factor! If you would like to see his photo shoot you can find it here and his pedigree is here.



CH Hims-N-Purrs Millilium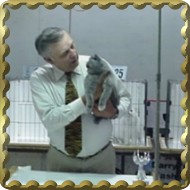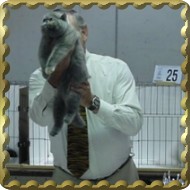 Bob Bryan and Lili.
Paul Patton and Missy and Lili after receiving Best (Missy) and 2nd Best (Lili) kitten!


Lili is such a nice all around girl. Very nice cobby body with short hefty legs, great weight, nice wide head with huge eyes that are set wide apart and ears that are nice and tiny and wide set also. Her eye color also looks like it is coming in great. Her coat texture is very soft and dense and stands away from the body. She also likes to play which should make her a lot of fun to show! Lili's latest Photo shoot can be seen here. Lili will be returning to the show scene after her coat comes back in to work on getting grand points!

CH Hims-N-Purrs Miss American Pie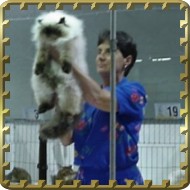 Pam DelaBar (left) and Bob Bryan (right) with Missy.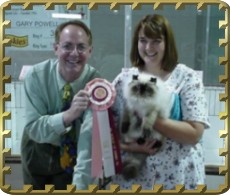 Gary Powell and Missy with her Best Kitten Rosette.
Missy is a VERY exciting girl that has done wonderful at the shows including the achievement of highest scoring kitten in show at two different shows! She has a great body, legs, tail, coat and dark, matching point color. Her head is very round with round, blue eyes and wonderful little ears setting on the side of her head with a wonderful tip to them too. She is accumulating several Best Kitten awards in Allbreed as well as Specialty rings. We couldn't be happier with her! Missy has Championed now as an adult and is temporarily sitting out to grow in her adult coat and then she will be back out to work on becoming a Grand Champion!







---
© 2000 Hims-N-Purrs Himalayans & Exotics
Digital Photos © of Hims-N-Purrs Himalayans & Exotics
Professional Photos © Mark McCullough, Donna Coss, Korporate Kats & Woof Studios